Fully Vital Reviews: Dani Hamilton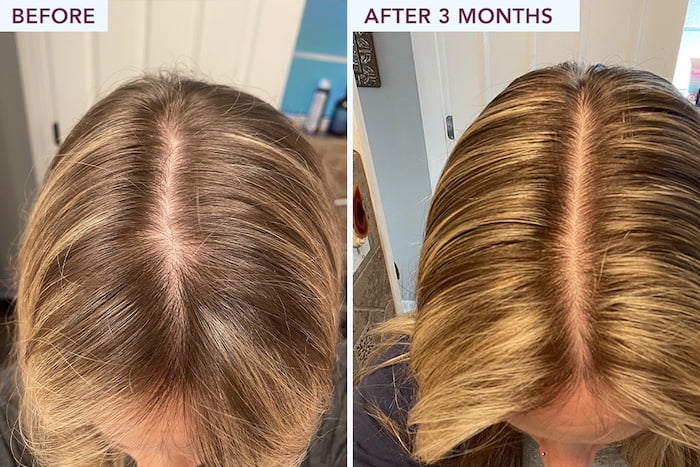 As a health coach, I experienced hair thinning out over the years and finally decided to do something about it. Here's my hair growth story.
Like many things you notice about other people and think "That will never happen to me", I was aware that some other women had thinner hair than me.
But I had been blessed with thick, healthy hair my whole life, so I didn't give it much thought.
Until I started experiencing hair thinning and was forced to pay attention to the problem.
My name is Danielle Hamilton. I am a health coach and I focus on helping women master their blood sugar.
I want to help women avoid or delay health complications such as diabetes and insulin resistance.
For many years, I followed the ketogenic diet and practiced intermittent fasting. 
A couple of years into my health journey, I noticed my hair started to thin. This led me to worry about my hair.
I cut down on keto and fasting but my hair never really came back in.
My part was getting really really wide, and  it was visible to myself and others.
I was feeling really discouraged and embarrassed.
I reached out to a few friends in the health space, looking for recommendations on hair growth products.
Multiple friends recommended the FullyVital hair growth system.
My Friends Shared Great Fully Vital Reviews
I got the 3-month Fully Vital system and I was really hoping that it would help me regrow my hair.
When the system arrived, I was excited to begin. I took some before pictures and got started.
I knew that consistency is key for hair growth. So I used the products every day.
I took the hair growth vitamins twice a day, brushed my scalp 100 times and applied the hair growth serum every evening.
I also used the derma roller twice a week.
After following the full protocol for 90 days, I took another picture of my hair. And you can see my Fully Vital before and after pictures below.
Fully Vital Before and After Pictures
To my wonderful surprise – the Fully Vital before and after pictures showed me that my hair was growing in again.
My part was filling in. Previously I had a balding spot on my scalp. The balding spot was filling in!
I could barely contain my excitement.
If you are looking to get help with your hair, this system is absolutely phenomenal.
I was waiting to share about my results after I tried it myself. I've seen so many other people get great experiences from it.
I cannot tell you how much it's improved my life. I feel so much confident about my hair.
I don't feel any more potential dark feelings that I am going to keep losing hair.
My Fully Vital Review
Dani Hamilton – @daniellehamiltonhealth
My hair is looking more youthful and its feeling stronger. It's also growing in.
The other women that shared their Fully Vital reviews were right.
I highly recommend these hair growth products to anyone dealing with hair loss and hair thinning.
After seeing my Fully Vital before and after pictures and my video, I hope you are convinced as well.
Here are the different pieces of the Fully Vital hair system:
Enhance Hair Growth Supplements
FullyVital hair growth supplements are a must-have for your hair growth needs.
They are packed with 24 vitamins and superfoods to boost thicker, fuller hair.
Here are some of the ways FullyVital helps fight hair thinning and regrow hair:
Balance hormones:

 

Fully Vital hair growth supplement contains natural herbs that slow down conversion from testosterone to DHT.
Balance stress:

 

FullyVital supplement contains ashwagandha and l-theanine, which naturally balance stress levels in your body.
Balance inflammation:

 

FullyVital contains curcumin, which is a strong natural anti-inflammatory compound used for thousands of years.
Support healthy circulation:

 

FullyVital contains french maritime pine bark extract and vitamin C to support a healthy circulation to the hair follicles.
Support thyroid health: FullyVital hair growth supplement contains iodine and selenium to help support thyroid function.
Enhance Hair Growth Serum
FullyVital hair growth serum is a powerful, light-weight serum that can be used daily to enhance healthy hair.
This hair growth serum balances scalp hormones & addresses the root causes behind hair thinning.
The quick absorbing, light-weight hair serum dries off overnight, so you can style your hair normally the next morning.
There's no need to wash your hair or change your hair washing schedule.
The hair serum balances hormones on the scalp, boosts circulation and helps improve scalp health for thicker, fuller hair fast.
Derma Roller For Hair Growth
A derma roller is a compact handheld device equipped with a rolling head covered in fine, short needles.
It is primarily used for a procedure known as micro-needling, a skin treatment technique rooted in traditional Chinese medicine.
The derma roller's purpose is to generate controlled micro-injuries to the skin or scalp, stimulating the body's natural wound healing processes.
This response includes collagen production and increased blood flow, fostering tissue regeneration and, in the context of hair growth, potentially invigorating dormant hair follicles.
FullyVital derma roller is made of surgical grade, stainless steel needles for best results.
FullyVital recommends using the roller two times per week.
Bamboo Hair Brush
Neglecting to brush due to hair thinning fears can lead to an unhealthy scalp, clogged pores, and dandruff.
FullyVital revitalizing scalp massage brush unclogs pores and improves circulation to promote thicker and fuller hair.
100% natural and eco-friendly bamboo hair brush features a bamboo handle and pins.
FullyVital recommends using the brush 200 times on your scalp every evening.
This was honestly fun. Once you get used to the brush against your scalp, it feels so refreshing and invigorating to get a scalp massage with this brush.
Fully Vital Reviews FAQ
Are these honest Fully Vital reviews?
Yes, I am a real person and this is an honest Fully Vital review. You can find me on instagram at @daniellehamiltonhealth or you can listen to my podcast Unlock The Sugar Shackles. I am a women's health coach.
I used FullyVital system for 3 months to get my results, and now I have started a new cycle of 3 more months. You can watch my video above to see my hair.
I've shared my Fully Vital before and after pictures and my hair growth progress on my instagram page as well.
Are these your Fully Vital before and after pictures?
Yes! These are absolutely my Fully Vital before and after pictures. These were taken three months apart. And to be honest, I was really pleasantly surprised by my results myself.
I will continue to use the products for a few more months then I will post new Fully Vital before and after pictures.
Will I do more Fully Vital reviews in the future?
Yes, it's totally possible. I had great results in the first 3 months and my bald spot is filling in and my part is getting thinner.
This makes me happy. I may do more Fully Vital reviews in the future. I've had the founder of FullyVital, Faraz Khan, on my podcast already and we may do another podcast recording in the future.
What's your back story?
Growing up, I was really picky and liked the sweet foods. My favorite foods were cereal, oatmeal, granola bars, pancakes (mmm, my favorite), colorful and sugary yogurts, chocolate milk, chicken fingers, pasta, cookies, and ice cream.
As you can imagine, I struggled with my weight. When I got older, I switched to whole wheat but my diet was still carb based.
In 2012, I adopted a real food, paleo diet. I saw huge improvements with my health but after a stressful period in my life, I started gaining weight, getting cystic acne, and I lost my period.
I realized I had Polycystic Ovarian Syndrome (PCOS). My PCOS was a hormonal imbalance that caused weight gain and weight loss resistance, cystic acne, and missed periods.
No matter how well I ate, I couldn't lose a single pound and actually seemed to be gaining weight!
I tried to balance my hormones and increase my progesterone but nothing seemed to be working.
Finally I enrolled in nutrition school to become a Nutritional Therapy Practitioner (NTP). I learned that at the foundation of all hormonal imbalances is our blood sugar balance!
My blood sugar had been completely dysregulated. I constantly ate sweets and craved them. Even though I was eating a healthy Paleo diet, I ate a ton of fruits and starches.
My blood sugar was out of control – and it was at the root of my PCOS.
In February of 2018, I adopted a real-food, low-carb, high fat (keto) diet and began incorporating fasting (intermittent and prolonged). I am finally able to maintain a comfortable weight and my skin is flawless.
Due to my ketogenic diet, fasting and PCOS, I also started experiencing hair thinning and hair loss. So I needed to do something about it.
Fully Vital before and after pictures show my hair transformation. 
It is my mission to help people uncover and improve their blood sugar issues so they can feel their best and live long and healthy lives.
I have done the above Fully Vital reviews to share my story.
If my hair growth story or sugar control story sounds interesting, then make sure to check me out at www.daniellehamiltonhealth.com.