HaircarePageContent
Ludwig scale for thinning hair
Typical Progression Of Hair Thinning
Doctors use the Ludwig Scale to determine the severity of female pattern hair loss.
TYPE 1
is the mildest stage where a new style can cover the thinning areas of the scalp.
TYPE 2
is moderate. Women notice thinning hair and widening where they part their hair.
TYPE 3
is severe, and the scalp is readily visible where the hair is sparse.
Does your hair fall under any of these categories? If so, we have a natural hair growth solution for you.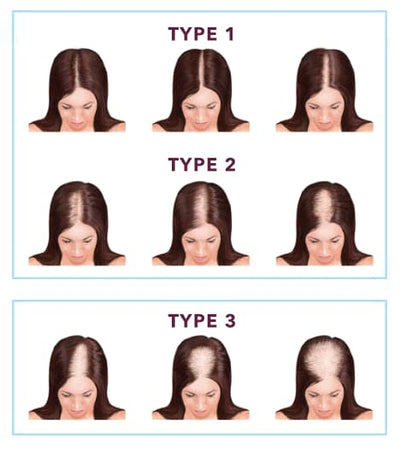 hormones and hair thinning
Hormones & Other Reasons For Hair Thinning

Hormonal imbalances are the #1 reason for hair loss in men and women.

However, there can be other reasons for hair thinning as well.

Excess stress, insufficient nutrition, aging, reduced circulation and increased inflammation can play a role.

It's important to address the root causes of hair loss.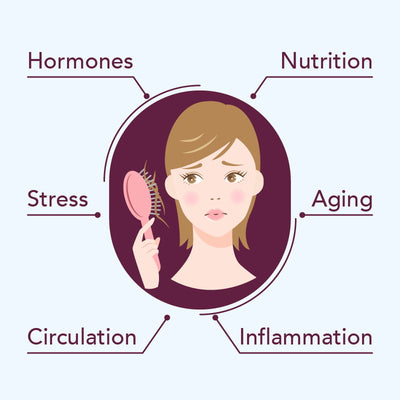 Vegan, Clean Beauty Products
Shop Hair Growth
Our Hair Products Address The Root Causes

Our hair growth products address the major reasons behind hair thinning.

We formulated them carefully after years of research.

We do not include any chemicals, drugs or hormones in our formulas.

Our hair growth products are 100% natural and vegan.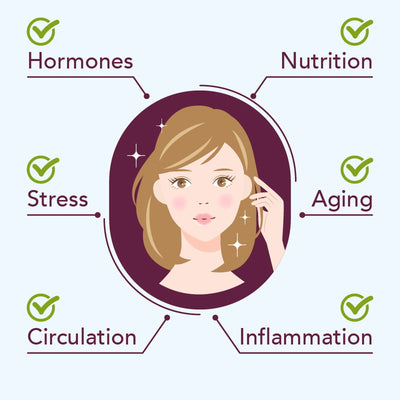 Hair loss treatments formulation
How We Created Our Hair Growth Products

We spent years traveling the world for a science-backed formula to grow thicker, fuller and stronger hair.

Our journey led us to many countries. We attended hair loss conferences, met with hair transplant surgeons, holistic practitioners, eastern medicine experts, anti-aging doctors to find the perfect hair growth formulation.
hair loss experts
Just A Few Of The Hair Experts We Consulted

We interviewed dozens of hair loss experts all over the world. Here are just a few of the top hair experts we consulted.

1. Dr. Alan Bauman, hair transplant surgeon
2. Dr. John Cole, hair transplant surgeon
3. Dr. Gorana Kuka, stem cell and exosome expert
4. Dr. Sharon Keene, hair loss expert
5. Dr. Dan Mcgrath, hair specialist
6. Dr Thierry Hertoghe, world-renowned hormone expert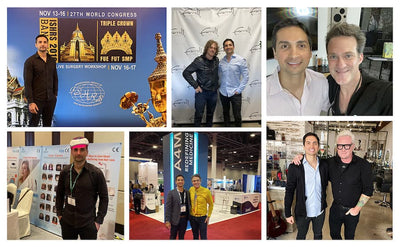 Shop Hair Growth
How We're Different

Our hair growth products stimulate hair follicles in 4 different ways to wake up tired hair follicles!

Our full system is designed to get you thicker, stronger and fuller hair fast.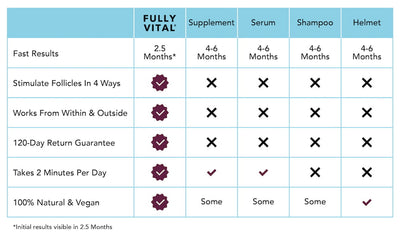 hair loss treatments innovation
We Improve Our Products Every Year

Our founder hosts a top-rated anti-aging podcast and he interviews some of the world leaders in health, wellness, anti-aging and longevity.

As we learn of new research from world experts, we continue to innovate and evolve our hair growth products to get you amazing results.

Even though it costs us a lot of money to make changes, we are 100% committed to getting you keep improving for you!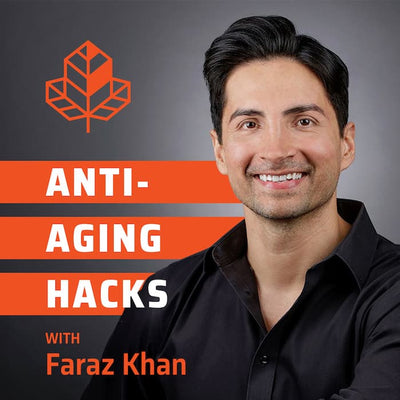 Hair growth vitamins
Our Hair Growth Vitamins Boost Hair From Within
No impurities, no fillers.
1. Balance Hormones:
Natural superfoods such as saw palmetto, green tea and pumpkin seed balance hormones naturally.
2. Balance Stress:
Stress can shorten the hair growth cycle. Our hair growth vitamins contain ashwagandha and l-theanine to naturally balance stress.
3. Nourish Hair:
Essential hair nutrients such as Biotin, Vitamin B's, Curcumin and Zinc provide your hair follicles with the nutrinets for healthy & shiny hair.
Try our
hair growth vitamins
today.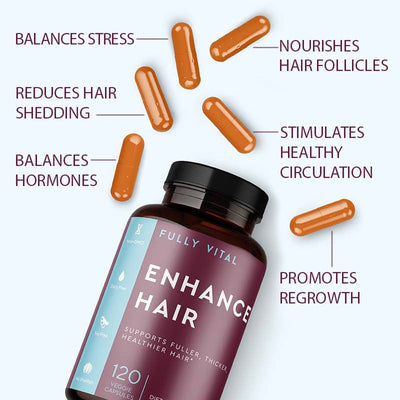 Hair growth serum
Our Hair Growth Serum Boosts Hair On The Scalp
1. COPPER TRIPEPTIDES -
This anti-aging peptide reduces inflammation and blocks DHT in the scalp, promoting healthier hair.
2. CAPIXYL -
This biomimetic peptide is extracted from red clover and clinically proven to enhance hair density by 46%.
3. CAFFEINE -
A natural stimulant that supports better circulation and helps increase hair length.
4. HYALURONIC ACID –
Helps hydrate hair and the scalp for a healthier hair follicle.
Try our
hair growth serum
today!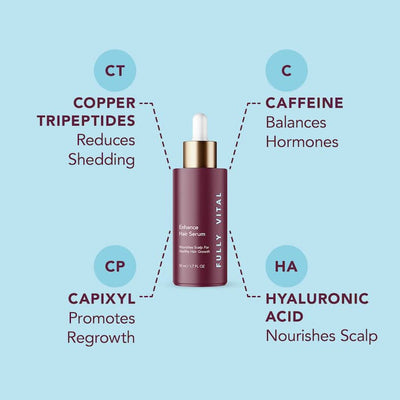 No drugs, chemicals or hormones
100% Safe & Natural Ingredients

As leaders in hair wellness and anti-aging, we avoid chemicals and drugs. We are committed to creating powerful hair growth products that are healthy and safe to use every day.

Our hair products contain no chemicals, drugs, hormones, gluten, eggs, dairy, soy, gmo, artificial coloring, artificial flavoring, SLS, parabens, sulphates, benzoates.

There are no known harmful side effects or long-term health risks associated with using our hair growth products.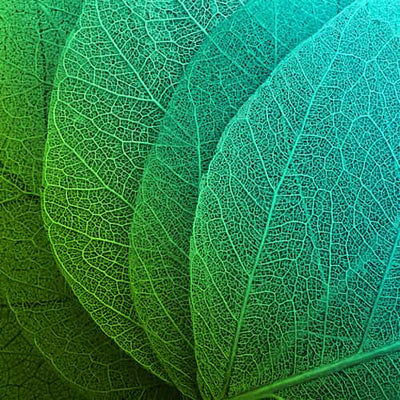 Here Is What Is Not In Our Formulas
Finasteride:
Originally created to treat prostrate enlargement, Finasteride has been used for male and female pattern baldness. It is not prescribed to women of reproductive age due to the high possibility of birth defects.

Finasteride can lead to lower sperm count, low libido and lead to erectile dysfunction in men.


Minoxidil:
Originally created to treat ulcers and high blood pressure, Minoxidil is regularly prescribed for hair loss. It acts as a vasodilator and improves circulation of blood to the scalp.

Minoxidil can cause side effects such as excess hair on the face and body, swelling of joints, edema and heart palpitations.


Steroids such as Spironolactone:
Spironolactone is prescribed by some doctors to treat hair thinning in women. It was originally used to treat fluid build-up and high blood pressure.

Side effects include nausea, vomiting, rashes, birth defects and a decreased desire for sex.
Scientific Data On Our Ingredients
Figure 1: Capixyl reduces conversion from Testosterone to DHT by reducing 5-alpha-reductase
Figure 2: Topical Melatonin stops hair thinning & improves hair density
Figure 3: Topical caffeine counteracts the shortening effects of testosterone and elongates hair shaft
Figure 4: Copper tri-peptides reduce conversion to DHT and increase cell viability