A-line Bob Haircut: All You Need To Know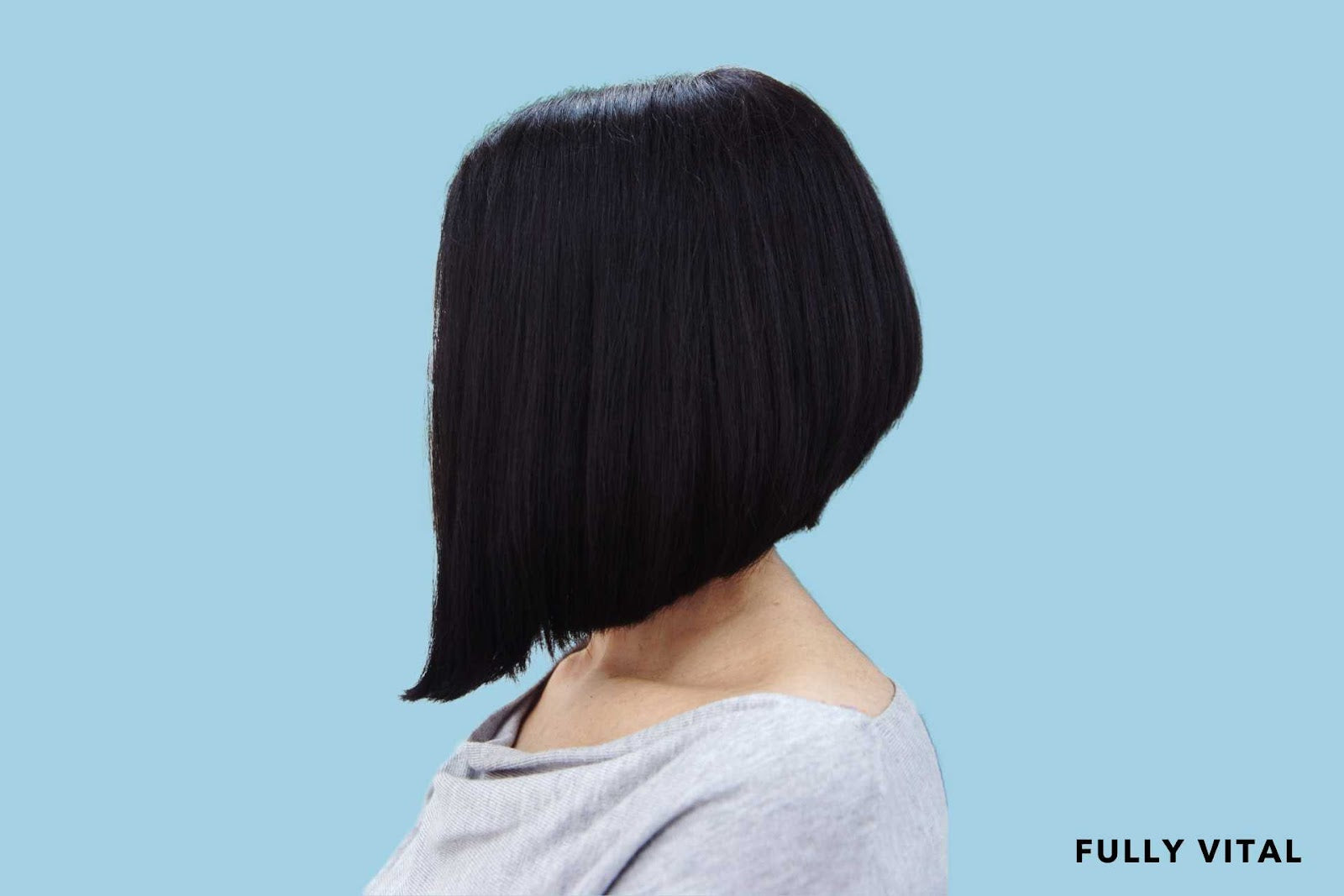 If you're a woman looking to revamp your hairstyle and stimulate hair growth, the A-line Bob Haircut might just be the perfect choice for you! In this article, we'll cover all the essential information about this trendy and versatile haircut. So, let's get started!
I LOVE MY HAIR NOW
FullyVital hair serum and hair vitamins made tremendous improvements in my hair. I truly love my hair now.
Dorit S.,

Shop Hair Products
What Is An A-Line Bob Haircut?
An A-line Bob Haircut is a stylish and timeless hairstyle that features shorter hair at the back, gradually lengthening towards the front.
This creates an "A" shape when viewed from the side, hence the name.
It is known for its sharp angles and can be customized to suit various face shapes and hair textures.
Why Is An A-line Bob Haircut Important?
The A-line Bob Haircut has gained immense popularity for several reasons:
Versatility: It complements various hair types, from straight to wavy and curly, making it a versatile choice for women with different hair textures.(1)

Face Framing: The angled cut beautifully frames the face, accentuating your features and providing a youthful appearance.

Low Maintenance: Despite its stylish look, the A-line Bob Haircut is relatively low maintenance and easy to style.

Hair Growth Stimulation: By trimming the ends, this haircut can potentially promote healthier hair growth.
How Does An A-line Bob Haircut Work?
The hairstylist will begin by sectioning your hair and then carefully cutting it to create the desired "A" shape.
The hair at the back will be shorter, while the front will be longer.
This precision cutting ensures a seamless and well-balanced look.(2)
What Are The Benefits Of An A-line Bob Haircut?
The A-line bob haircut offers a range of benefits that make it a popular choice among women of all hair types.
Here are some of the key advantages:
Modern and Chic: The A-line Bob Haircut offers a modern and chic appearance, perfect for those looking to stay on-trend.

Suitable for Most Face Shapes: Whether you have a round, oval, square, or heart-shaped face, this haircut can be tailored to suit your unique features.

Adds Volume: The layered nature of the cut adds volume and movement to your hair, making it look fuller.

Quick Styling: Styling an A-line Bob is relatively quick and straightforward, ideal for women with busy schedules.
Are There Any Downsides To An A-line Bob Haircut?
While the A-line Bob Haircut has many advantages, it might not be the best choice for everyone.
Consider the following before getting this haircut:
Maintenance: Though it's low maintenance overall, the A-line Bob may require more frequent trims to maintain its shape.

Growing It Out: Growing out a bob can be a bit challenging and might require more patience than other hairstyles.
What Are The Alternatives To An A-line Bob Haircut?
If the A-line Bob isn't quite what you're looking for, here are some alternative hairstyles to consider:
Long Layered Haircut: Ideal for those who want to keep their length while adding dimension and movement.

Pixie Cut: A short and daring cut for those who want to make a bold statement.

Shoulder-Length Blunt Cut: A classic and straightforward haircut that suits many face shapes.

Textured Lob: A longer version of the bob with textured ends for a trendy and effortless look.

Our Best Sellers

Enhance Hair Vitamins

$47.20
Can I Style My A-line Bob If I Have Straight Hair?
Absolutely! Styling an A-line Bob with straight hair can give you a sleek and sophisticated look.
Here are some styling options to consider:
Beachy Waves
Use a curling wand or flat iron to create loose, beachy waves for a relaxed and effortless vibe.

Apply a heat protectant before styling to safeguard your hair from heat damage.
Sleek And Straight
Run a flat iron through your hair to achieve a sleek and polished appearance.

Apply a smoothing serum or cream to tame any frizz and add shine.
Textured Ends
Add texture to your straight hair by using a texturizing spray or dry shampoo at the ends.

Scrunch the ends with your fingers for a more lived-in look.
Will An A-line Bob Haircut Suit My Round Face Shape?
Certainly! The A-line Bob Haircut can be flattering for those with round faces.
The elongated front helps create the illusion of a slimmer face and adds angles to balance the softness of a round face.
Here's why it works:
Face-Framing Effect
The A-line Bob's longer front sections draw attention downwards and help elongate your face.

The shorter back creates height at the crown, making your face appear less round.
Angled Look
The angled cut of the A-line Bob adds structure and definition to your facial features.

It creates the appearance of sharper cheekbones, complementing a round face shape.
Can I Add Bangs To My A-line Bob?
Absolutely! Bangs can be a stylish addition to an A-line Bob, allowing you to personalize your look.
Here are some bang styles that go well with the A-line Bob:
Side-Swept Bangs
Soft and side-swept bangs can beautifully frame your face and add a touch of elegance to your A-line Bob.

They can help soften strong jawlines and add dimension to the overall look.
Blunt Bangs
Blunt bangs can create a bold and edgy appearance when paired with an A-line Bob.

This style can draw attention to your eyes and add a contemporary vibe to the haircut.

Our Best Sellers

Enhance Hair Serum

$47.20
How Can I Add Volume To My A-line Bob If I Have Fine Hair?
Adding volume to fine hair with an A-line Bob is possible with the right techniques and products.
Here are some tips to boost volume:
Volumizing Shampoo And Conditioner
Start with a volumizing shampoo and conditioner specifically designed for fine hair.

These products can lift the roots and add fullness to your A-line Bob.
Blow-Drying Techniques
Blow-dry your hair upside down to create lift at the roots and add overall volume.

Use a round brush while blow-drying to achieve additional fullness.
Texturizing Products
Apply a volumizing mousse or spray at the roots to give your fine hair extra body and texture.
Is An A-Line Bob Suitable For Curly Hair Prone To Frizz?
Yes, the A-line Bob can work beautifully with curly hair, even if it's prone to frizz.
Here are some tips to manage frizz and enhance your curly A-line Bob:
Hydration Is Key
Use a moisturizing shampoo and conditioner to keep your curly hair hydrated and reduce frizz.

Apply a leave-in conditioner to lock in moisture and combat dryness.
Define Your Curls
Use a curl-enhancing cream or gel to define your curls and prevent them from becoming frizzy.

Scrunch your hair gently to encourage the natural curl pattern.
Avoid Over-Styling
Limit the use of heat styling tools to avoid further damage and frizz.

Embrace your natural curls and work with them to achieve a beautiful curly A-line Bob.
Unlock The Power Of Healthy, Youthful Hair With Fully Vital
Experience the transformational benefits of Fully Vital's science-backed hair growth products.
Our mission is to empower you to reclaim your hair's vitality and reverse the aging process.
Say goodbye to hair concerns and hello to a more confident, radiant you.
Key Features:
Science-Backed Formulas: Our hair growth products are developed using cutting-edge research to deliver effective and lasting results.

Aging Reversal: Slow down and reverse the signs of hair aging with our powerful formulations that nourish and revitalize your locks.

Healthy Relationship with Your Hair: Embrace a healthier, more nourishing approach to hair care, enhancing the natural beauty of your tresses.

Confidence Booster: Restore your hair's vitality and enjoy a newfound sense of confidence in every aspect of your life.
Transform your hair and transform yourself with Fully Vital's hair growth products.
Reveal the full potential of your locks and embark on a journey to healthier, more youthful hair today!
Our Best Sellers
3-Month Growth Bundle
$269.00
Hair Growth Serum
$47.20
Our Best Sellers
Enhance Hair Serum
$47.20
Final Thoughts On A-line Bob Haircut
A-line Bob Haircut proves to be a timeless and versatile hairstyle that has stood the test of time, evolving from its origins in the roaring 1920s to becoming a modern-day style statement.
Its ability to complement various face shapes and hair textures makes it a go-to choice for women looking to revamp their look and enhance their natural beauty.
The A-line Bob's potential to stimulate hair growth aligns perfectly with the ethos of Fully Vital.
We understand the significance of maintaining a healthy relationship with your locks and offer a variety of hair growth products designed to halt the aging process of your hair.
Embrace the grace and confidence of the A-line Bob, knowing that Fully Vital has your back in nurturing and caring for your precious tresses.
Frequently Asked Questions About An A-line Bob Haircut
How often should I get my a-line bob haircut trimmed?
We recommend getting your A-line Bob trimmed every 6 to 8 weeks to maintain its shape and prevent split ends.
Can I style my a-line bob differently for special occasions?
Absolutely! Your A-line Bob is versatile and can be styled in various ways, such as adding curls, waves, or even straightening it for different occasions.
Will an a-line bob suit my curly hair?
Yes, an A-line Bob can look stunning on curly hair, as it adds structure and definition to your curls.
Can I dye my a-line bob in different colors?
Yes, the A-line Bob can be a fantastic canvas for experimenting with different hair colors, from subtle highlights to bold hues.
Are there any age restrictions for getting an a-line bob haircut?
Not at all! The A-line Bob is a timeless and ageless style that can be rocked by women of all ages.
How can I maintain the health of my hair with an a-line bob?
Regular trims, using quality hair care products, and minimizing heat styling can help maintain the health of your hair.
Will an a-line bob work on thin hair?
Yes, the A-line Bob can work wonders on thin hair, adding the illusion of fullness and volume.
Can I donate my hair if I get an a-line bob haircut?
Absolutely! If you meet the donation requirements, you can donate your hair to organizations that make wigs for people in need.
Will an a-line bob make my hair look thinner or thicker?
The effect of an A-line Bob on the appearance of your hair thickness depends on various factors, including your hair's natural texture and the specific cut.
Here's what to consider:
Hair Texture Matters:
For Those with Thick Hair
An A-line Bob can help lighten the weight of thick hair, making it more manageable and appearing less bulky.
Layering can add dimension and reduce the triangular shape that thick hair can sometimes create.
For Those with Fine Hair
The A-line Bob can add the illusion of thickness to fine hair, especially if styled with volume-enhancing techniques.
The cut's layering and angles can create movement, making fine hair look fuller.
Styling Techniques:
Thinner Appearance
Styling the A-line Bob with a sleek, straight look can give the impression of thinner hair.
Avoid using volumizing products or excessive teasing if you prefer a thinner appearance.
Thicker Appearance
Adding curls or waves to your A-line Bob can make your hair appear thicker and more voluminous.
Using texturizing products and blow-drying with a round brush can also enhance the illusion of thickness.
How long does it take to style an a-line bob in the morning?
The time required to style an A-line Bob can vary based on hair texture, length, and the desired look.
Here's a general overview:
Quick and Easy
For Low Maintenance Mornings:
If you have naturally straight hair, you can opt for a simple wash-and-go routine, taking about 5-10 minutes.
Styling Time for Different Hair Textures:
Straight Hair
Styling straight hair can be relatively quick, usually taking 10-15 minutes with a flat iron or curling wand for added texture.
Curly Hair
Styling curly hair may take a bit longer, typically ranging from 15-20 minutes to define curls and combat frizz.
Source:
What Influence Does Hair Type And Texture Have On Hairstyle? (2023, July 13). SocialStar. https://officialsocialstar.com/blogs/blog/what-influence-does-hair-type-and-texture-have-on-hairstyle

Best Hair Cutting Techniques - The Ultimate Guide [80 Free Videos]. (n.d.). Sam Villa. https://www.samvilla.com/blogs/hair-tutorials/best-haircutting-techniques

How To Curl Your Hair - 6 Different Ways To Do It. (n.d.). Sam Villa. https://www.samvilla.com/blogs/hair-tutorials/6-different-ways-curl-your-hair