How Angie Transformed Her Hair After 20 Years Of Hair Thinning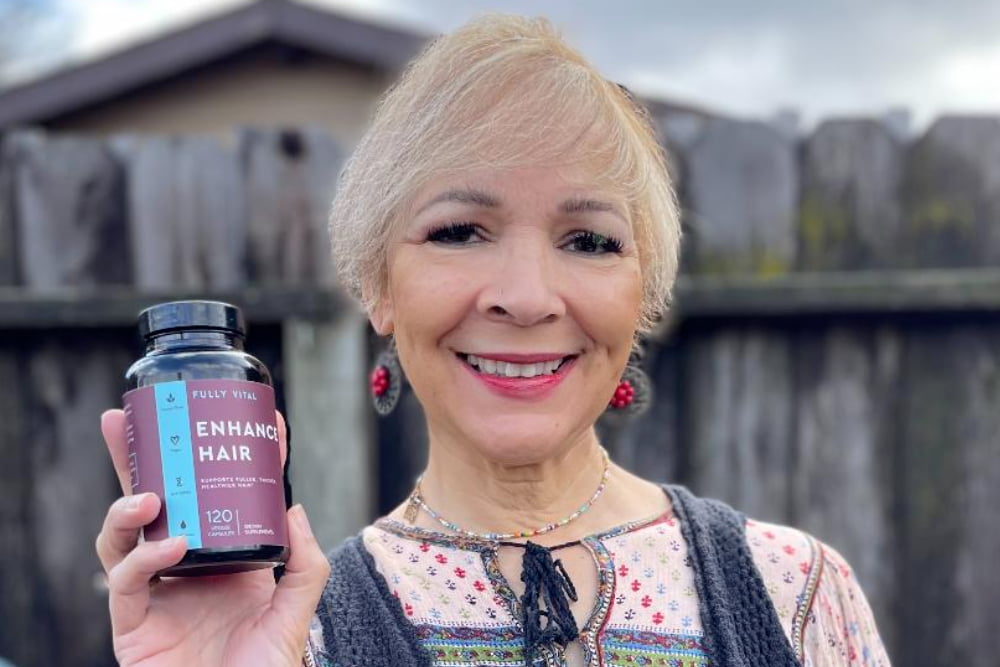 This is a beautiful story of a woman who had previously experienced hair thinning for 20 years.
She had tried product after product with no result, but she is now on the way to reclaiming her confidence and happiness. 
Watch Angie's hair wellness story.
"I found this product on Facebook, and let me tell you it's been a game changer." -Angie, Sacramento
Who Is Angie Reid-Howery
Angie is a massage therapist and lives in Sacramento, CA. 
Her hair thinning started 20 years ago. 
Especially after menopause, her hair was starting to get really thin.
How Angie
 

Felt About Her Hair Loss

Angie tried many other supplements for her thinning but nothing worked for her.

She also tried sprays but did not see any results.

She finally resorted to wearing hats to hide her thinning areas.

She likes hats but they make it harder to have good hair days.

She felt unattractive and her hair thinning affected her confidence.

 
How Angie Is Regrowing Hair With FullyVital
Angie came across the FullyVital products on Facebook and decided to give them a try.
Angie has seen a huge transformation in her hair since she started using FullyVital.
Angie likes that the FullyVital serum gives her hair more body.
She uses the roller a couple of times a week to open up the channels so the serum can absorb even better.
Angie loves brushing her hair with the bamboo brush. It makes her hair alive and vibrant.
 Angie takes the supplements twice a day.
"Using FullyVital has made me feel so confident. I just love, love, love these products", says Angie.
Angie highly recommends FullyVital.
How You Can Regrow Hair Like Angie
Get started with FullyVital hair growth products so you can see a transformation in your hair too.
We recommend getting the 3-month bundle. It's a very popular product and it gives you everything you need to really see a big difference in your hair.
Remember, you are covered by our 120-money back guarantee. 
You have nothing to lose, and good hair days are right around the corner.
Start your hair wellness journey with FullyVital.