How The FullyVital Hair Serum Works To Create Thicker, Fuller Hair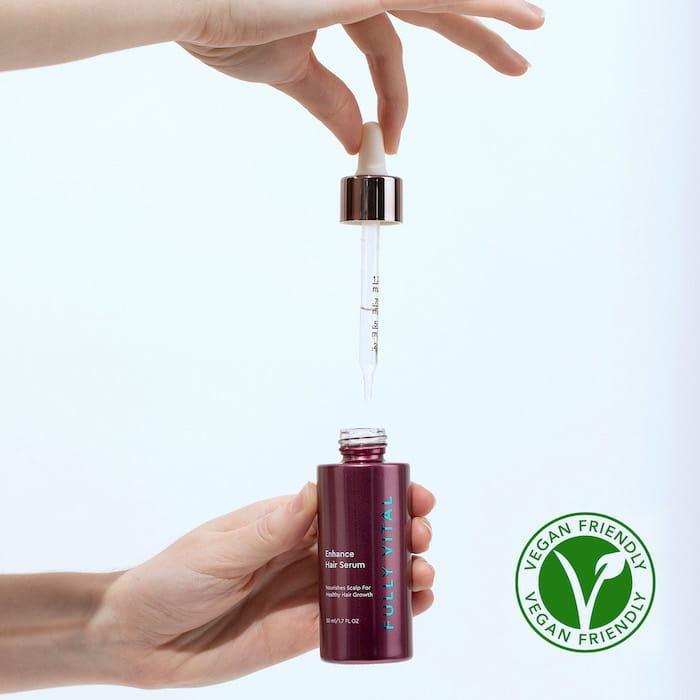 Each hair follicle is a complex system designed to grow healthy hair.
Restoring weak or damaged hair follicles requires nourishment from the inside and the outside.
We've developed a potent, natural serum that absorbs from the scalp to the follicle base.
Learn more about how to use our serum and some of the active ingredients:
Some Of The Active Ingredients In FullyVital Serum
Some of the active ingredients include:
Copper Tripeptides - This natural compound reduces inflammation and blocks DHT in the scalp, promoting better hair growth. 
Capixyl –

 

This biomimetic peptide is formulated from the extract of red clover and has been shown in clinical studies to enhance hair density by 46%. 
Caffeine –

 

A natural plant-based stimulant that supports better circulation and helps increase hair length.
Hyaluronic Acid –

 

Our bodies make this compound to help lubricate our joints, skin, and eyes. It also helps hydrate hair and the scalp for a healthier hair follicle.
Melatonin –

 

A powerful antioxidant that protects the hair follicle cells from damage and helps to regrow hair.
Centella Asiatica Extract –

 

A natural moisturizing Korean herb that is also an antioxidant that maintains the skin's natural barrier.
Here is the complete list of ingredients:
Water (Aqua), Butylene Glycol, Ethoxydiglycol, Glycerin, Propanediol, Caffeine, Adenosine, Copper Tripeptide-1, Centella Asiatica Extract, Clover Flower Extract, Ginseng Root Extract, Panthenol, Palmitoyl Tetrapeptide-20, Acetyl Tetrapeptide-3, Melatonin, Hyaluronic Acid, Methyl Nicotinate, Methyl Vanillate, Inulin, Caprylhydroxamic Acid, 1,2-Hexanediol, Dextran, Citric Acid.
By combining the serum on the scalp with the advanced nutrition of the supplement, you will revitalize sleeping hair follicles, kick-starting new and vigorous hair growth.
How To Use the Enhance Hair Serum
Our unique non-greasy scalp Enhance serum contains potent plant-based ingredients proven to stop hair loss and stimulate thicker, fuller hair growth.
You can feel good about using vegan and natural ingredients that increase ATP in cells.
ATP provides energy to all living cells and helps stimulate hair growth in the follicles.
1. Fill the dropper and apply it directly to thinning areas of the scalp.
2. Massage the serum into the scalp with your fingertips.
3. The serum is a leave-in product. Apply it at night, and it will be dry by the morning.
4. Go ahead and style your hair as usual.
You don't need to wash it out of your hair daily. 
Conclusion
The Enhance hair serum promotes thicker, fuller and stronger hair within 3 months.
It is lightweight, non-greasy and contains powerful vegan nutrients for enhanced hair wellness.
Use the serum as part of the FullyVital Hair Wellness System for best results!